09.04. - 18.04.2015
v/a
MEISTERSCHULE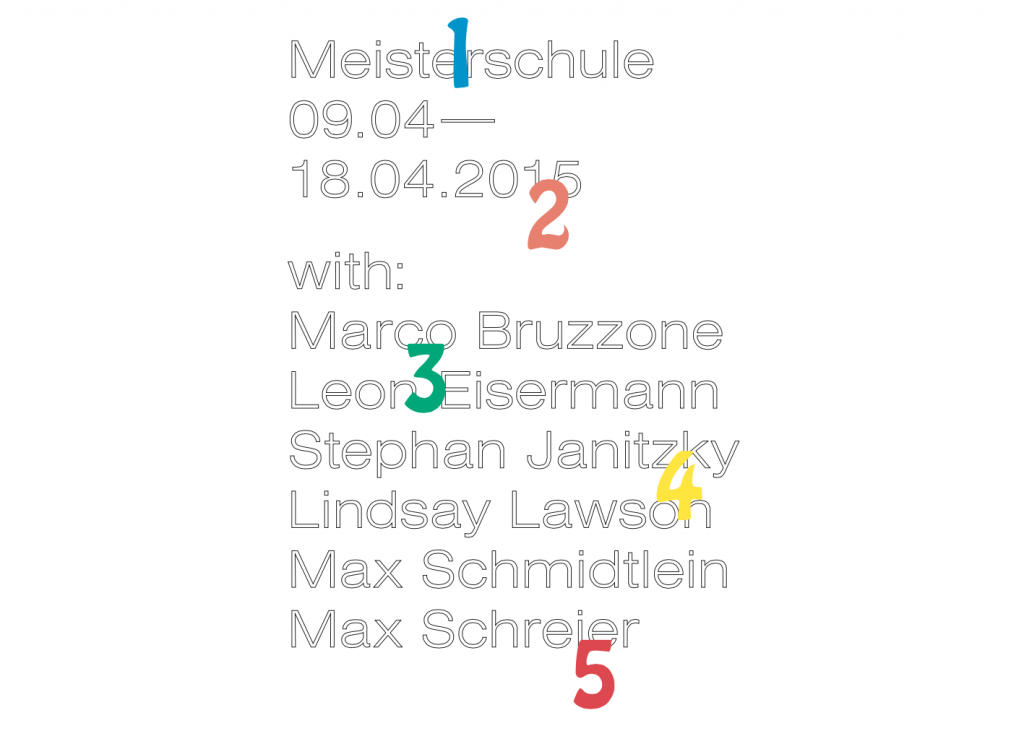 ---
1
Max Schreier
A Short Guide to Writing (Positively) about Art (You Like)
Thursday, 9. April 2015, 6 – 9 pm
A discussion and workshop on writing positively, thoughtfully and meaningfully about artworks and exhibitions that you find moving, removed from the cynical and ironic tone that pervades the plurality of conversations and criticism in the art world. Hopefully, a reminder of why we participate in this challenging but rewarding community.
Limited capacity of 15 participants. Sign up by writing an email (subject class 1) to: info@gillmeierrech.com
Max Schreier was born in 1985 in new York City. He is an independent writer and curator and works for Artsy in Berlin.
2
Stephan Janitzky & Max Schmidtlein
Antifun Walk
Samstag, 11. April 2015, 5 pm
Antifun walk
A walk in a defined area. Straight rules.
A lookaround, a reading what's in front of you.
No fun, but in a good mood.
Limited capacity of 15 participants. Sign up by writing an email (subject class 2) to: info@gillmeierrech.com
Max Schmidtlein (*1984) is living and working in Berlin. Last solo shows include: DETOX PLUS, Gillmeier Rech Berlin. KERA- TOKO NEWS, Liszt, Berlin. IT'S JUST A WAY TO STAY ALIVE / ZUKUNFTSWAHN (with Stephan Janitzky), Deborah Schamoni, Munich.
Stephan Janitzky, born 1983, is living and working in Munich and Hamburg.
3
Marco Bruzzone
Mosse e Mossette (A formal study for a set of emojis after E.Sottsass' Bacterio)
Sunday, 12. April, 3 – 6 pm
The workshop is inspired by four classes E. Sottsass gave in 1982 at the University of Palermo. In those classes he argued that the avant-garde and the bourgeoisie appropriate, mystify, and transvalue the folkloric in such a way that the folkloric reappears as a valued commodity and can, as such, be a tool for the further domination of the people from whom it was extracted. Sottsass attempted to use elements of folklore and give them back through design to the people. His work, however, did not consider the cultural and economic factors of his work's reception and, as a matter of fact, his pieces very seldom ended up in the apartments of those people he was trying toDuring this workshop, Marco Bruzzone will give an introduction to his recent project "Mosse e Mossette" after which he will collaborate with the participants on formal solutions for the set of emojis he is designing. These emojis have been conceived by deconstructing one of Sottsass' patterns and are meant to bring his intentions full circle by releasing elements of his designs as part of the widely spread system of emojis.
Limited capacity of 15 participants. Sign up by writing an email (subject class 3) to: info@gillmeierrech.com
Marco Bruzzone (*1974, Genoa) lives and works in Berlin. Selected exhibitions include: PLATFORM STOCKHOLM, Stockholm, 2015. THE END OF THE LINE, Chateau Shatto, LA, 2014. GO AND COME BACK, Paradise Garage, LA, 2014. SET MEMBERSHIP, Gillmeier Rech, Berlin, 2014. ACCIAIO 11, dingum/Salumeria Lamuri, Berlin, 2014. GLOBAL ISOLATION CONFERENCE & EXHIBITION, MJ, Geneve (with Aude Pariset), 2014. FLAG NYC, Performa 13, New York 2013
4
Lindsay Lawson
Things in Themselves
Saturday, 18 April 2015, 5 pm
The artist Lindsay Lawson together with special guest, Erika Eiffel, will present an open forum on the subject of the inner experiences of objects. This will compare Kant's idea of the thing-in-itself, the understanding (or not) of objects independent of the senses, in relation to Objectum Sexuality, the experience of emotional, romantic, affectionate and/or sexual relationships with objects. The forum will first consider the Berlin Wall as a neutral entity caught in the middle of a conflict between people. Erika Eiffel, who identifies as an objectum sexual person, said in 2010 that "the purpose of the Wall is not the politics, it's the suffering that the Wall went through. If you look at it strictly that way, the Wall was misplaced in the world. Everyone hated this wall and could not accept its existence. I felt that way in my life being an OS person misplaced in a society of people who are all in love with each other."
Open Forum
Lindsay Lawson, born in the United States, living in Berlin, received her BFA in Sculpture from Virginia Commonwealth University, her MFA in new Genres from UCLA, and attended the Städelschule in Frankfurt am Main. Recent exhibitions include: Gillmeier Rech, Berlin. LAXART, Los Angeles. Yossi Milo Gallery, New York. Shanghai Biennial, Thomas Solomon Gallery, Los Angeles. Carroll/Fletcher, London. MIT, Cambridge. Florian Christopher, Zurich. Her upcoming performance will premiere at Kunstwerke in Berlin this spring and her first feature-length film, THE SMILING ROCK will be released this summer.